No Strings Attached
$0.00-29.95/month
Pros
High quality adult videos available after logging in
Safe for work in that there was no nudity and auto-play videos when I visited
Extensive search features
Low-cost options if you choose a long term membership plan
Quick, no-hassle sign up
Cons
By signing up, you give NSA the right to re-use anything you post
No refunds given, ever
Account maintenance fees charged if you don't log in for months
Extremely poor engagement and user response to messages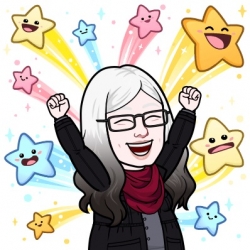 Latest posts by Bonny Albo
(see all)
I really struggled with this No Strings Attached review.
It's not a normal thing for me; usually I go through my step-by-step process in about an hour, wait a few days to get replies to the 20+ folks I message, and then finish writing things up. Get a picture or two, share with readers, and voila! Fini.
Not in this case.
Not only did I spent way more time writing up this review than I normally do, I spent months waiting to get replies back. From anyone.
As well, the fine print really had me, uh, focused. It's a lot more than most dating sites, although about on par with adult dating sites that focus more heavily on the sexual or casual side of things than anything else.
So with that lovely, curious introduction, I bring you the very in depth and somewhat complicated No Strings Attached review.
As always, add your own comments, experience and review at the very bottom of this post.
Sign Up Process
Quick and straightforward, you can sign up with No Strings Attached by setting your preferences, relationship situation and gender. Check your email, confirm your membership, and you're good to go.
*Note: one of my biggest issues with the site was that I needed to use the "forgot password" to login each time I wanted to check messages. I use LastPass to save passwords (worth every penny), so this sort of thing rarely comes up.
Might want to bookmark the signup page if you're serious about using the service.
Look and Feel
No Strings Attached feels like a slick, sexy website with a focus on video.
It's easy to navigate and find what you're looking for, with regular privacy and security reminders to help users feel safe about using the system.
What Kind Of Features Do You Get?
There's the standard search options that most dating sites offer, and then there's the extras. There are a lot of extras here.
Nutshell? Try them all out. I did, and it was a riot.
Want a virtual-only affair? Awesome, you can search for that.
Met someone? Turn off your profile temporarily.
Feeling like you need a video fix? You can search those, too.
How about another layer of security? Create your own "network" within the site, and communicate there instead.
Connecting with Other Members
Usually I get at least a few replies and/or messages when I sign up for an "adult" dating site, and usually within a few minutes.
Here? Nada, other than a generic, automated thank you.
Not only did I get zero messages, I never, ever got a message. From anyone.
I haven't a clue why this is – perhaps it was the geographic region I chose, or that I didn't put up any photos or videos. No idea. But after months of having to redo my password, logging in, and seeing nothing new – other than some truly great adult videos – I was at a loss as to how the site stays in business.
Membership Costs
When you sign up, you'll get a 7-day free trial.
For everything that I could see, that meant I got everything on the site for free. I'm a single woman though, so, take that with a grain of salt – perhaps peruse the user No Strings Attached reviews at the bottom of this article for other experiences.
Otherwise, you'll likely see some variation of the following membership fees: $29.95 USD for one month at a time, $14.98 USD a month for four months (billed at once), or $8.95 USD a month for 18 months (billed in one installment).
Like most dating sites, No Strings Attached requires automatic billing, which means your credit card will get charged automatically for another month, 4 or 18 months when your subscription ends.
Easy way out? Just set a reminder on your phone for 2 weeks prior to the subscription ending to cancel.
No Strings Attached Geo-Targeting
Is there anyone nearby on the site? While not 100% reliable, I did find the geo-targeting fairly accurate when I let No Strings Attached know where I was currently in the world.
No Strings Attached Screenshots
Because folks seem to want to see what the site looks like, before actually clicking on a link…
To note, there's no actual nudity (that I found) on the site, although some images before you log in are graphic.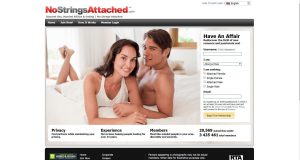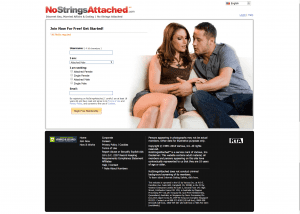 Terms of Service and Privacy Policy (aka The Fine Print)
Almost everything that I found here was relatively standard. Having said that, standard doesn't necessarily mean it's in your best interest, or, that you'll know about it – as I find few people sign up for dating sites and actually review the terms of service. That's why I'm here!
So, all the things (I believe) you should know about in this No Strings Attached Review, are listed here:
If you've been convicted of a felony, contacted the government asking them not to receive sexually explicit material, and/or are required to register as a sex offender, you can't use the service. Having said that, No Strings Attached doesn't screen their members in any way for this information.
The service is only meant for "noncommercial" use, meaning, you can't contact others asking them to buy your services. In this case, I'd say they likely mean forms of prostitution, however, it goes for all sorts of commercial enterprises.
You cannot share your email, URL, address or phone number with anyone using the service, including your own;
No Strings Attached, as do most dating sites, uses automatic, reoccurring billing. This means that whatever amount of time you sign up for, you're going to get automatically billed again for the same amount, or, possibly more if it was a "introductory special" when you signed up. I always suggest putting a reminder on your phone to cancel your service a few days prior to whatever day you're supposed to, just to cover your bases. You can, as well, go into your Account –> Billing History and turn off automatic billing.
If you don't sign in for 180 days, the service has the right to charge your account $5/month for "Account Maintenance Fees". (Are you glad you read this No Strings Attached review? You're welcome…)
No refunds of any kind are offered.
Cancelling requires you to contact them via snail mail or telegram (really?) "at any time prior to midnight of the third business day following the date of this contract, excluding Sundays and holidays".
Your personal information may be shared within the Friend Finder network "to send you information on products and services you might be interested in".
Phew. I think that's all of it. Oh, wait…
One More Detail in the Fine Print
This one, I need to copy and paste to share with you. It refers to whatever you post on the site, including your own images and emails.
"Except as provided in our Privacy Policy, once you post, send or otherwise make publicly available any Content through the Services ("Personal Content"), you expressly grant us, and hereby represent that you have the right to grant us, a perpetual, irrevocable, world-wide, assignable, sub-licensable, and transferable right and license to quote, re-post, use, copy, reproduce, modify, create derivative works of, incorporate into other works, distribute, transmit, broadcast, communicate, publicly display, publicly perform and otherwise exploit such Content in any form or media, anywhere, and without any notice or compensation to you of any kind. You hereby grant us all consents, rights and clearances to enable us to use such Personal Content for such purposes. Personal Content may be searchable by, and you may be able to view and search Personal Content on, different websites (i.e., different URLs in the form of "co-brands" or "private labels") operated by us or our affiliated entities. Personal Content may also be searchable by third-party search engines, such as google, yahoo and bing."
Nutshell? Anything you post at No Strings Attached, they can use for whatever reason they want.
Overall No Strings Attached Review – Should You Try It?
Definitely sign up for the 7-day free trial. The videos in and of themselves are worth it, if you like adult videos.
If you're wanting to switch from say Ashley Madison, or want an affair, No Strings Attached would work well.
Having said that, it only works if people reply to you, so do share in the comments if you've figured out that part. I've yet to.
How about you? Have you tried the site? Met anyone from it? Feel like writing your own No Strings Attached review? We'd love to hear all about your experiences in the comments.