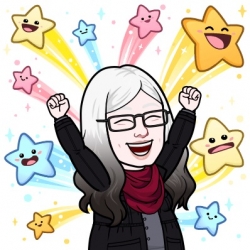 Latest posts by Bonny Albo
(see all)
---
"Are there any legitimate Seeking Arrangement reviews out there? Isn't that dating site a total scam?" asked a friend.
I pondered the thought a bit and then realized I had sent several female friends over to the site. Did they have success? Yes. Were they normal people? Yep, if a bit more attractive than the average gal. Were they okay with, uh, prostituting themselves?
That last one was harder to answer. Some of them? Yes. Most of them? No, yet still used the site and were thrilled.
It's a complex discussion about this whole Seeking Arrangement thing – so much so that it requires a full review. I'll do my best to share both sides of the equation (the Daddies or Mommas, and the babies) where possible.
---
What Does the Site Look and Feel Like?
The layout is clean, with several matches on the homepage when you sign in.
Seeking Arrangement has no ads that I came across (as a sugar baby) or tries to prompt you to buy into anything. It's got a clean layout, and it doesn't hide what it's about.

The profiles, however, felt a bit… sketchy. A lot asked for personal information, assumedly to connect off site so the 'Daddies' didn't have to pay the higher-than-normal fees. Sadly, this is common practice on most dating sites, but for this niche it seems odd. Wouldn't a Sugar Daddy dating site not have an issue with this, considering the cost to subscribe? Don't they have better spam filters than most, considering the kinds of folks they want to attract?

I had no issue with this when I tested the site out. But if you take a peek at legitimate dating site review websites, you'll find rampant complaints. Check out what Caitlin T. had to say over at SiteJabber:
What's the Sign-Up Process Like?
The sign-up process is painless. You can choose whether you're a man or woman, sugar daddy or mama, or a sugar baby.
Seeking Arrangement wishes to know your income, spending habits, net worth and so forth, though you always have the tiny little "skip for now" line at the bottom of the page.
Search Functions and Features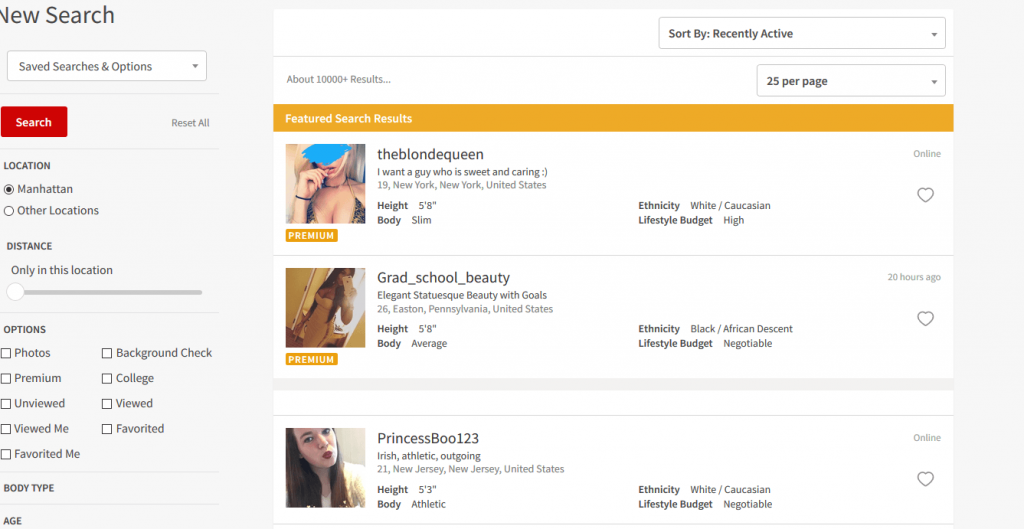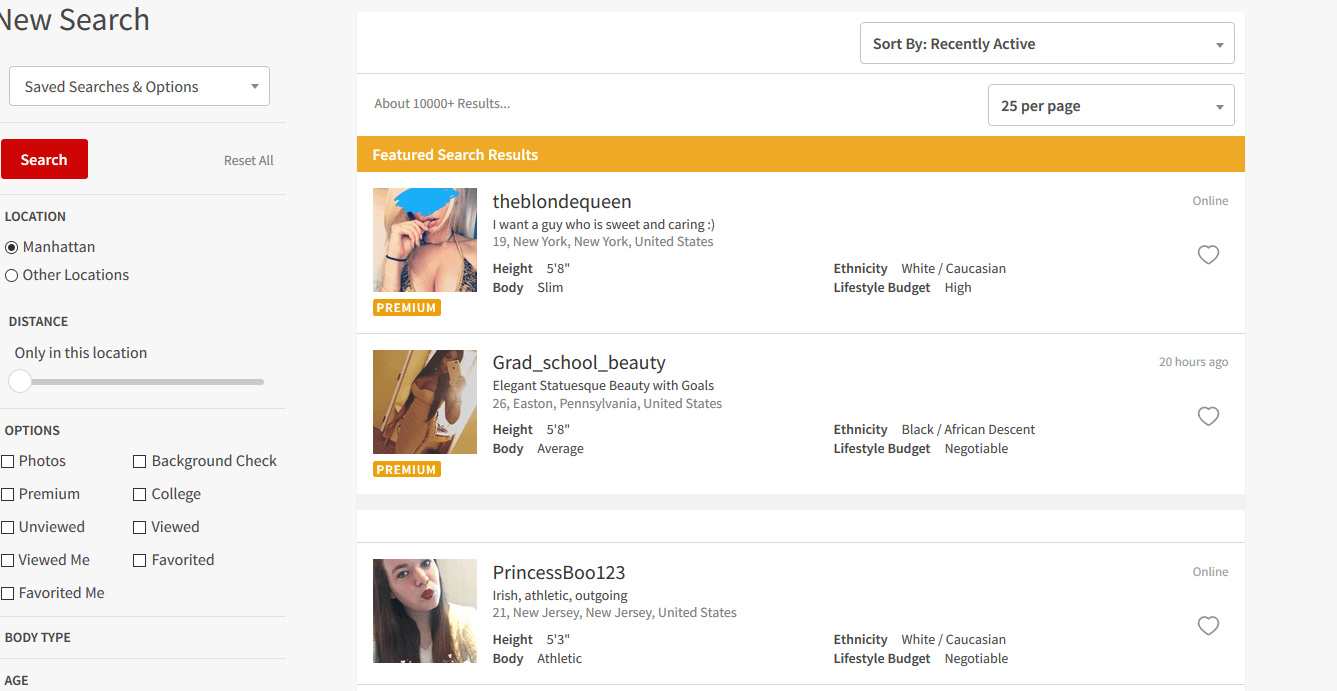 The search function on Seeking Arrangement gives you foremost, the premium members, followed by other nearby users.
Advanced searches give members the options to check options such as those who have had a background check, favorites, premium, attended/attends college, and a few other options.
Members can also search by age, lifestyle, education, smoking and drinking habits, physical features, and relationship status.
How Much Does a Membership Cost?
Sugar Mama and Daddy's pay: 1 month for $79.95, 3 months for $208.85, 6 months for $359.70.
Sugar Babies get free basic accounts, with the option to upgrade to premium to get higher search status and extra features.
I've Read the Fine Print So You Don't Have To
A few things to note before you jump down to all the other first-hand SeekingArrangement reviews:
SeekingArrangement reserves the right to conduct any criminal background check and using available public records.
All payments made to SeekingArrangement are final and cannot be challenged. [note: this concerns me somewhat, as this defeats the entire purpose of a bank and/or credit card… despite that, if this is in the terms of service, take note. They're playing hardball].
Should they start a dispute with your bank, you agree they will hold you responsible for any outstanding balance owed to us plus any dispute case fees charged by our bank, which may be as much as US$60.
Phew! This section always generates some interest, but a zero-exceptions clause? Wowza. If you note nothing else in any of the SeekingArrangement reviews listed here (or below), that's cool. Just know – there's no going back. You pay, you're a member.
Details and Demographics, Oh My
The average age of a Sugar Daddy is 40 years old, whereas the average Sugar Baby is 25 years old – although the reviews on TrustPilot gave me the impression that the Daddy's seem to run younger, on average.
According to SimilarWeb, Seeking.com had 11.24M visits between November 2020 and April 2021, down 2.54% from the six months prior. In March 2022, the site had increased to 10.2M visitors for the month, and secured the #9 spot for top viewed dating sites in the US, down one spot from the month prior.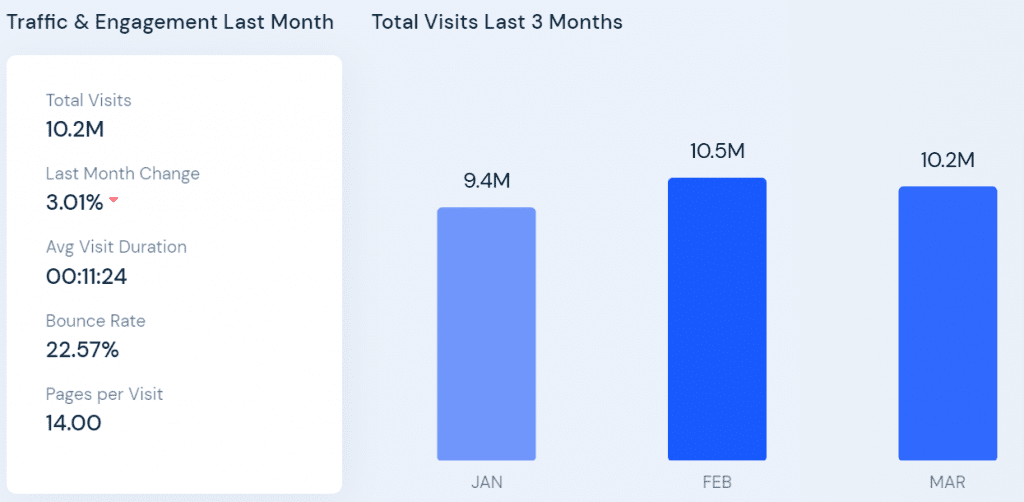 Seeking.com in the News
Seeking Arrangement has been featured in The Herald Sun, Forbes, Mel Magazine, Galore Magazine, Elle, Cosmopolitan, Associated Press, Breitbart, Harpers Bazaar, The Sun, The Huffington Post, Time Out, Jezebel, and many more. You can even sit in on a date!
Well-known members include Mike Ramsay (looking for Donald Trump's lookalike wife), Forrest Hayes (charged with the murder of someone he met via Seeking Arrangement).
Some shadier involvements in the news include an attempted date rape, harassment, alleged human trafficking, a cheerleader escort scandal and check fraud.
There are also lots of claims to how much Sugar Babies can make. In Australia the average "monthly allowance" is $2,700 a month, and one mom shared her Sugar Daddy rented out Universal Studios for the day so her young'un could celebrate his fifth birthday. Then, there's the Sugar Daddy that pays $4000 a month to his Baby, and the other who paid $75,000 AUS.
SeekingArrangement Scams
Interestingly, SeekingArrangement's blog has a post from 2009 asking for information about users that may have scammed one another. You'll need to sign in to your account to post, but give the comments a good read through first. Perhaps you'll recognize a name?
For Sugar Babies, there's a fantastic article about Seeking Arrangement scams. Specifically, what to avoid on the site (or others) and how to keep yourself from getting involved with someone that can't honour the terms of your agreement.
For Sugar Daddies/Momma's, there aren't as many options for support or advice. Considering the stigma attached with using these kinds of sites, it makes sense. When I was still the Dating Expert over at About.com, I would get several dozen emails a month from Sugar Daddies asking me to help them with an "awkward" situation.
With these folks in mind, I wrote an article called "Signs to Spot an Internet or Dating Scam" over on Get Dating Help.
Other Sugar Daddy Dating Sites
Seeking.com has more than a few competitors, but the biggest are:
Are There Any Coupons?
There are no verified coupons. I've yet to encounter any sort of discount code for this site —which makes sense, considering the dating site.
Hopefully This Proves There Are Some Real SeekingArrangement Reviews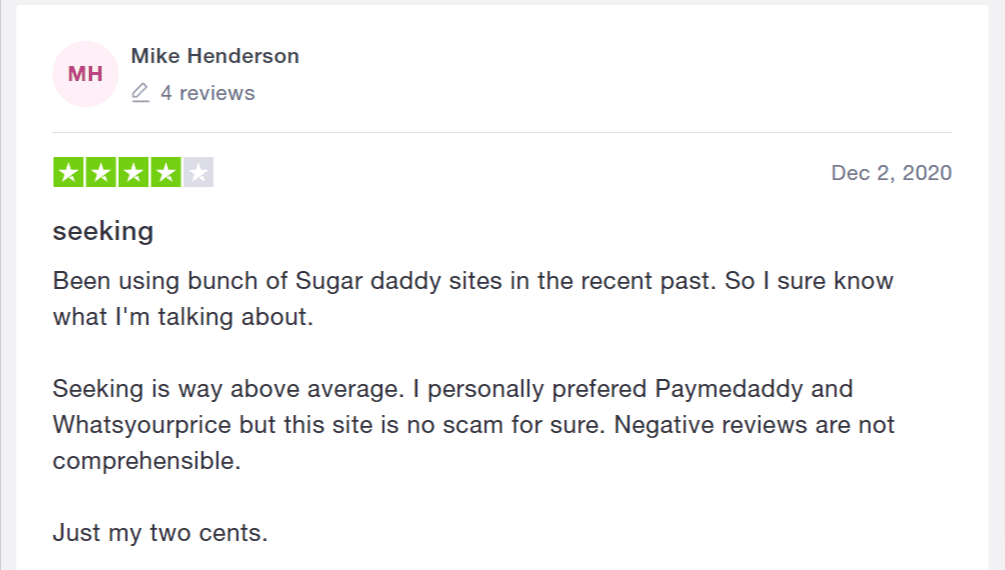 Seeking Arrangement has something for everyone. For women looking for a Sugar Daddy, you have the option of a free basic account, and for men or women looking for a Sugar Baby… well, if you can afford a Sugar Baby, the membership cost is nothing.
The site is clean and non-buggy, and the search function makes it easy to find exactly what you're looking for. Would I recommend Seeking Arrangement as my top wealthy dating or sugar daddy dating site? Hm. It's up there.
You tell me. Have you used the site to find a sugar daddy, momma, or baby? Were you satisfied with the website's service, the person or people you met, and the cost? How about the features?
Share your experiences and questions by scrolling down and adding to the SeekingArrangement reviews already in the comments.