eHarmony
$0.00-59.95/month
Pros
More members than almost all the dating sites out there
Unusual features that no other dating site has
Extensive, long-term scientific research has gone into their matching process
Cons
No search at all; eHarmony decides for you if someone's compatible or not
The most expensive, well-known dating site out there
At least an hour needed to sign up and fill out their detailed matching questionnaire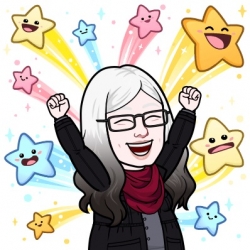 Latest posts by Bonny Albo
(see all)
As one of the biggest, most well-known dating sites in North America (and possibly the world), I've got a lot to cover with this eHarmony review to ensure you get new, yet important information to help you decide if you want to sign up.
(If you're here just to share your own eHarmony review or read other people's opinions, just scroll down to the bottom).
I find it tricky with the "big ones" – the dating sites that everyone has heard of – because most people already have an opinion formed, prior to signing up. They're just looking to see if someone else can tell them "yes", or, "no", to validate the high cost of subscribing.
Let me be clear: eHarmony is one of the most expensive dating sites you'll encounter, with good reason. There's also a huge amount of history as well that may, or may not, affect your willingness to sign up. I'll share what I know, and, the special "tricks" I use to get the most of out the site.
So let's jump in!
Sign Up Process
If you're not familiar with eHarmony, yet, have signed up with other dating sites, it's a bit of a surprise when you first join.
There's (about) an hour-long questionnaire to fill out before you'll get access. Some folks might remember this questionnaire to restrict certain "undesirables" from the accessing the site, which led to a class-action lawsuit and then the creation of Compatible Partners. But, I digress.
Prepare yourself for a list of very personal, sometimes odd questions, that you'll have to fill out. These questions form the backbone of the site, and you can't join without taking all of them. (You can take more once you've paid, but, why would you want to?)
After you've finished the questions, it'll depend on your demographic as to what you see next.
Highly desirable demographically in a specific geographic location that has few singles? You might get eHarmony for free (more on this later).
Part of the LGBT community? You'll get sent over to Compatible Partners.
Normal, everyday user? You might see an offer to join, or, a list of the qualities you embody that will best suit a romantic, heterosexual partner.
Why the Specifics?
When eHarmony first started, it was on the basis of increasing marriage rates between heterosexual partners. Sadly, only those in the know remember this; you'll be hard pressed to find any evidence online anymore.
Now, depending on who you ask, eHarmony is responsible for 1 out of 5 marriages in the US.
The thing is, the site's owners focused on Christianity as a basis for marriage. Which is perfectly okay if you know you're signing up for a Christian dating site for heterosexuals only. Their explanation at the time was that all of their (and other people's research) was based on long-term partnerships between heterosexuals, and they weren't sure if it applied to other pairings.
It makes sense. I remember hearing this during the kafuffle and thinking, "Yep, I get it. I still wish I'd known it had a Christian focus".
Fast forward to 2016, and getting any sort of reliable information to link to, to explain the situation, is a bit tricky. At one point I had their Terms of Service saved where it shared all of this information clearly. I'm assuming it all disappeared with the lawsuit, and then the creation of Compatible Partners – which, by the way, was mandated by a judge. I'm a bit confused who would want to use a real dating site that only exists because a court ordered it – but that's just me.
Who Uses eHarmony?

One of the few dating sites that have a higher percentage of women than men, eHarmony also has a higher percentage of folks under 54 than most, too.
Search
Back to the intent of this piece: my eHarmony review. Thanks for indulging me!
Last I visited eHarmony, there weren't any search options. You sign up, you fill out the form, and then you wait. Sometimes, a day. On a few occasions, I've had to wait over a week. Eventually, you get matched with someone based on eHarmony's algorithm. You can tweak based on distance, and that's about it.
What will you see when you get matched? Again, it depends. Usually, no picture and some of their answers to free-form questions. It's pretty bare bones, and specifically so.
eHarmony is a true compatibility dating site, meaning THEY do the matching. They use the best information they have about long-term, marriage-minded partnerships, and then facilitate your "meeting" someone that's aligned similarly.
That's it. And yes, that's a lot. Just from a user's perspective, it isn't much.
Connecting with Other Members
You can only connect with other people on the site once you've been matched. In addition, there's no way to see if the person has subscribed to the site, whether they joined years ago, or whether they're on a free trial.
What does this mean for you? Well, you're only matched with a small percentage of the population (makes sense), and, there's no way of knowing if they're actively looking still. So…. you're going to get fewer replies than any of the other dating sites combined.
Still, it only takes one. That's what I hear constantly from users, readers, and clients with their eHarmony review(s) to meet someone. I agree with them; marriage-minded singles will have better luck here than anywhere. You've just got to be patient.
As well, frequent "free communication weekends" offer an opportunity to get people back on the site and connecting. The issue?
You can only use their preformatted Q&A format – there's no way to actually have a conversation unless you subscribe, and even then, it takes a bit.
eHarmony Cost
The cost will differ based on several factors – your location, demographic and time of year. For the most part, a month-to-month membership costs $59.95 USD, with lower cost options if you subscribe for longer periods of time.
The cheapest I've come across for eHarmony, full price, is $251.50 USD for a full year (or $20.95/month).
Want eHarmony promo codes? [thrive_2step id='661′]Sign up for the newsletter[/thrive_2step] and get a weekly email with a list of them.​
How To Get eHarmony For Free
I get this question asked sooo much… it's astounding. I get it; the site costs more than any other. Still, it'll take a bit of work to get eHarmony completely, 100% free. There are really only three ways that I know how:
Belong to a highly desirable demographic in an area where there aren't a lot of members to match with;
Write an eHarmony review like this one, and they (may) reach out to offer you a free month. Having said that, I've written about dating sites for well over a decade, and eHarmony is the only one that has yet to offer me a freebie;
Play their discount system, but this will only get you so far.
When you sign up for eHarmony, you'll get offered a set fee to subscribe. Decline, and wait. Don't go back to the site, just forget about it.
In a few weeks, you'll get presented with a discount offer. Again, wait. UNLESS it's 92%, then, take it. That's the best you'll likely find (and the best I've come across).
The game here is that (a) you need to wait, and (b) it won't happen around big dating-related events like their free communication weekends or Valentine's Day.
Then, [thrive_2step id='661′]subscribe to my email list[/thrive_2step]. In my reply, you should get a link for eHarmony. See if you can "stack" the coupon and the discount – you might get eHarmony for free. Do let me know in the comments what, worked for you.
eHarmony Research and Statistics
eHarmony has undertaken a lot of research studies and took part in many, many more. This is what's of most interest to users wanting to sign up for the site, and that I used while writing this eHarmony review.
​Marital satisfaction higher with couples that met online; but also note that online couples in the study were older and wealthier than the offline-meeting couples.
​The research found a positive association between shared, similar emotional experiences and long term romantic longevity.
A book written by eHarmony founder, Neil Clark Warren, citing some of the research and patents used in the creation of the dating site and company.​
​Research undertaken with eHarmony Labs found that sex was used either to make the other partner feel better, or, to avoid negative consequences (highly paraphrased).
eHarmony settles lawsuit, will merge gay and straight websites (2010)
While challenging to find the actual data today, in 2010 eHarmony settled a long-standing lawsuit regarding not allowing LGBTQ+ singles access to their dating platform.
Screenshots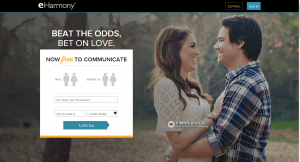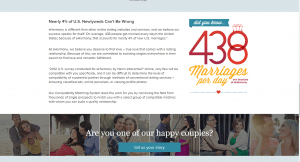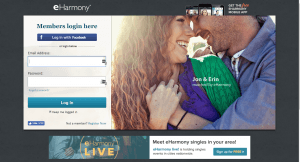 ​
The Bottom Line With This eHarmony Review – Use It or Walk Away?
Do I recommend eHarmony? Yes, and no. I love their matching mechanisms and ability to get a report on your needs in relationship, even with their freebie version.
The cost (higher than almost any other dating site out there), and inability to see whether someone is actively on the site or signed up years ago, however, are both hugely detrimental in my opinion.
To avoid one of these issues, sign up, wait, and see what kind of discount you get within the first few weeks. I guarantee you will, and, it'll likely get a bit more palatable when you do.
What do you think, though? Please scroll down and share your own eHarmony review, or read other users' experiences.